1. Favorite Thanksgiving Memory?
Probably R's first Thanksgiving. She was just started to eat solid food and it was so fun to watch her try all of the Thanksgiving food. We gave her a little bit of cranberry sauce and the sour face she was was hilarious! Of course she wanted more after that!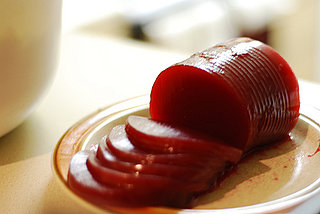 Oh man this is hard. I LOVE Thanksgiving food! I'd have to say it's a toss up between stuffing and cranberry sauce- but only the awesome kind that comes in a can and stays in a can shape! Pumpkin pie is up there too.

3. What is a Thanksgiving Tradition you and your family have?
Every year we go to N's moms house for brunch and then my parent's house for dinner. There's not really much to it, but we end up eating TONS of delicious food.

4. Show us a favorite Thanksgiving picture from years past:
Passed out in her Bubba's arms at her first Thanksgiving brunch.
Ready to eat at her first Thanksgiving dinner!

What are you most looking forward to about this Thanksgiving?
The food. Obviously and always. I crave it all November and right now I. Am. Ready!