Doing my first Sunday Social today!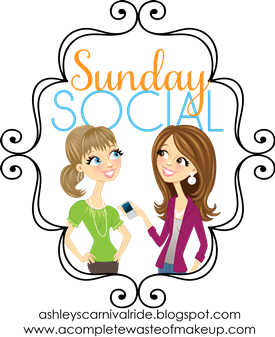 The questions are:
1. What is your favorite handbag you've ever owned?
Right now it's my Louis Vuitton Totally PM (please don't tell my other purses!) I bought this beauty last year at the three story LV store in Vegas with some hard earned scholarship money. I have been crazy impressed with the quality of the Speedy 25 my mom bought me for my 17th birthday (8 years ago!) and with the way LVs retain/ increase in value. I could sell my Speedy on ebay for more than my mom paid for it originally!
2. What is your dream handbag you lust over?
No question the Chanel 2.55 Classic Flap Bag. One day I will have one. One day...

3. What are the daily essentials in your purse or work bag?
Phone, keys, and wallet. I try not to carry too much stuff in my purse and it ends up collecting junk throughout the week. Right now I've been carrying a small pouch with things like blotting sheets, sanitizer, and lotion in it but I definitely wouldn't call that a necessity of mine.
4. What's in your purse (with pictures)?
Right now I'm giving the Totally a break so I've been using this cute little Yakpack tote I got off Zulily. When I worked at Zumiez after high school we sold Yakpack purses and I loved them, but I haven't been able to find my favorite styles anymore!
This is what a weeks worth of crap from my purse looks like- minus the crumpled receipts and Starbucks straw packaging that I kindly threw away before taking this picture. In sort of left to right order:
- Cheapo wallet I use for membership and gift cards
- Juicy wallet I've had forever
- Headband from the dollar store (I got a pack of 5!) and mini brush from Sephora
- Reagan's dance shoes
- Zofran that I like to have with me at all times for peace of mind
- Clip on earrings R HAD to wear to the store and then promptly discard
- Hello Kitty hair clip (I always have a ton of hair clips in my purse that leave the house on R and come home in my bag.)
- Lone quarter
- Birchbox pouch with: lotion, blotting papers, mirror, Advil, CPR mask, and hand sanitizer.

Phew!